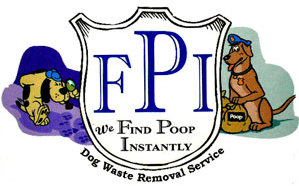 FindPoop.com & FPI d Find Poop Instantly Copyright © 2007



For Professional Removal of
Dog Waste,
Call in the FPI.
We Find Poop Instantly
Located & Servicing Nassau County, NY
We Service the Community in Providing a Safe and Clean Method of Removing Dog Waste from your Property.
Treat: Our Way of Saying Thank You! If you refer someone to us and they stay on for a month then we will give you a coupon for a free cleaning!! There is no limit to the amount of coupons you can earn!
Ask About Our Discount
for Assistance Dogs, Senior Citizen, & Disabled.



We're the Town of Hempstead Pooper Scooper Specialist
Primary Service Provider to the South Shore of Nassau